Director's Message
---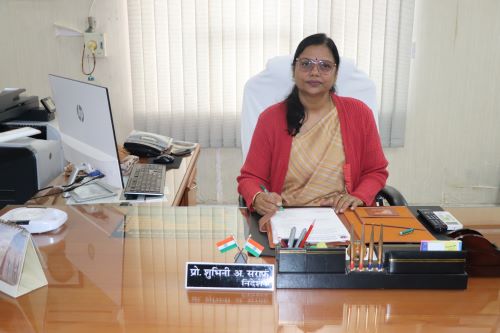 As the Director of the National Institute of Pharmaceutical Education and Research in Raebareli, I am delighted to welcome you to our website. National Institute of Pharmaceutical Education and Research (NIPER) is a synonym for quality pharmaceutical education in India. NIPER-Raebareli, one of the premier institutions, currently operates from its transit campus located in Lucknow. At NIPER Raebareli, we strive to promote innovation, cutting-edge technologies, and inclusive skilling in the field of pharmaceutical education and research. The Institute is very soon coming up with a state-of-the-art campus at Vinayak Pur, Raebareli, U.P. The Institute was established in 2008 and has made considerable progress in Pharmaceutical Education and Research. India is known for its acumen in Pharmaceutical Sciences which has been reinforced by the recent success stories witnessed during the pandemic, in which India was able to lead and provide quality vaccines to the world.
Our institute is committed to providing a world-class education to our students, enabling them to become skilled professionals in the pharmaceutical industry. With state- of-the-art infrastructure and a team of highly qualified faculty members, we ensure that our students receive the best training and education possible. Among the various achievements of our faculty members, we have a significant number of research papers, annually published in reputed international journals. Our faculty members have ample international exposure making NIPER-R a melting pot of various knowledge skill sets as well as cultures. We have a good cultural diversity, with the students hailing from almost all parts of the country. Being an equal opportunity institution, we boast of a high percentage of lady faculty and staff. NIPER Raebareli has a research mandate to contribute to niche areas like neuro-degenerative diseases, Nano drug formulations, and new agents against Tuberculosis. We, as an institution, are environmentally conscious and are working towards prevention and therapy strategies against various insecticides, pesticides, and toxic pollutants.
At NIPER Raebareli, we also believe in promoting inclusive growth and development in the field of pharmaceuticals. Our research and development efforts are aimed at developing affordable and accessible medicines for all sections of society. As we continue to grow and expand our efforts, we welcome collaboration and partnerships with other organizations and institutions. We believe that by working together, we can achieve greater success in our mission to promote excellence in pharmaceutical education and research. Carrying forward the legacy of previous Directors, I envisage taking forward this institute of National Importance from strength to strength.
Thank you for your interest in NIPER Raebareli. We invite you to explore our website to learn more about our institute and the work we do.
Prof. Shubhini A. Saraf Ph.D.
Director
NIPER, Raebareli